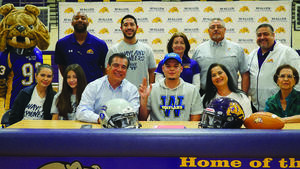 McHi's Amador to play football for Wayland BaptistMcAllen High's Robert Amador signed a national letter of intent to play football for Wayland Baptist University on March 6, 2020. ...
McAllen ISD led the way with the most nominations (39) of any school district in the Rio Grande Valley for this year's Palm Awards. In addition, McAllen High School had the most n...
McHi Mariachi Oro takes 1st place at FESTIBA eventThe McAllen High Mariachi Oro took first place in the Class 6A Division at the 15th Annual FESTIBA Conference at the UTRGV Perform...